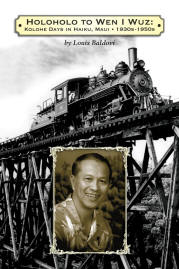 The Haiku Living Legacy Project (HLLP) is a nonprofit organization, whose purpose is to preserve and perpetuate the historical legacy unique to the area known as Haiku. Historically the Haiku area has included communities such as Haiku, Halehaku, Honopou, Huelo, Kailua, Kaupakulua, Kokomo, Kuiaha, Maliko, Pauwela and Peahi.
The Haiku Living Legacy Project had looked forward to participating in the promotion of Louis Baldovi's book about growing up in Haiku. Unfortunately, Louis passed away in 2006 before having the text edited and published. HLLP joined with Louis' widow, Valerie, his family and members of the Haiku community to fulfill his dream of bringing the book to press. With Valerie's generous support, HLLP has been able to complete this project.
Louis Baldovi was born in Kahului and raised in the Kuiaha community of Haiku. While Louis was growing up, the pineapple industry dominated the Haiku area, and his was one of a few Filipino families in a community of mainly Japanese immigrants.
In this book, Louis shares youthful tales of mischief, history and anecdotes about a simple life, enriched by a mix of immigrant cultures and the bounty of a subtropical paradise.
All proceeds of this book and other HLLP endeavors benefit the activities of the Haiku Living Legacy Project.  For more information, please contact us here  or contact Suzy Aguirre at Haiku School.